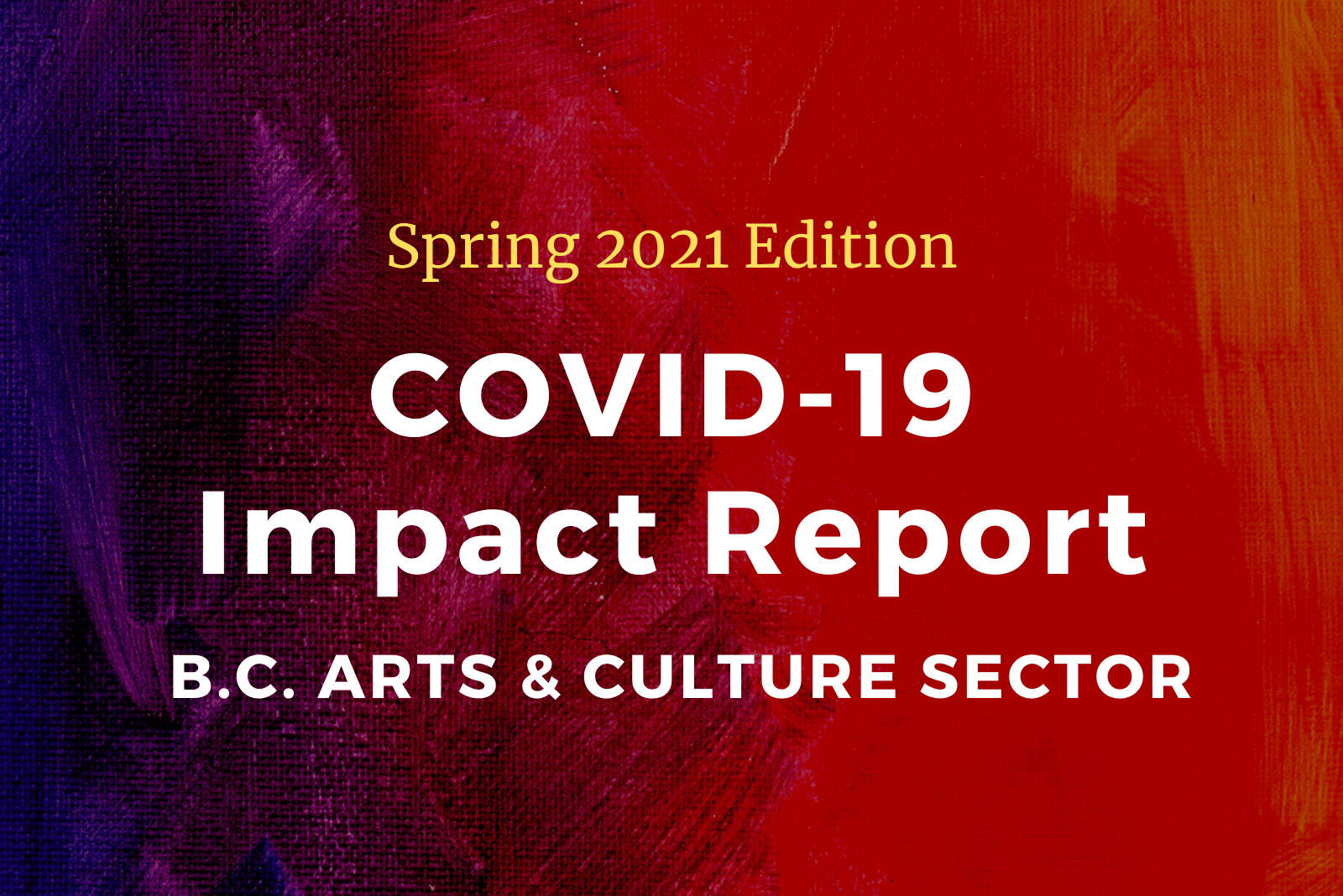 COVID-19 Impact Report: Spring 2021

This April GVPTA once again invited artists, arts workers, and arts and culture organizations province-wide and across all disciplines to help us gain a better understanding of where they are at today by completingthe Spring 2021 edition of the GVPTA COVID-19 B.C. Arts & Culture Impact Survey.

The Spring 2021 GVPTA COVID-19 Impact Report - B.C. Arts & Culture Sector is now available.
As part of a data collection strategy, GVPTA released two previous reports based on earlier iterations of the survey. The initial report was shared in June 2020, followed by another in December 2020 (read past impact reports below). Survey iterations have evolved to address current and changing realities. Read the backgrounder and past reports on this page below.

The spring 2021 survey was completed by 551 unique respondents between April 6 and 22, 2021 and was
distributed through a network of arts service organizations, funders, and stakeholders across the province, social media, newsletters, and directly to previous survey respondents.
Aggregate data is shared with funders, researchers, and arts service organizations for regional, provincial, and national reporting and analysis.

Please note that, as with any survey, the data is only partial representation of the impact COVID-19 has had on the arts and culture sector in British Columbia.
View the report highlights below, and click the red button below to download the PDF report.

Spring 2021 Report Highlights

The Respondents:
Of the

551 respondents

, 55% were individual artists & arts workers, and the other 45% responded on behalf of an organization. Of the 304 responding as individuals, 50% identified solely as an artist, 17% solely as an arts worker, and 33% as both artist and arts worker.
59% of the respondents were based in Metro Vancouver, 19% from Vancouver Island and Gulf Islands, and the remaining 22% from other areas of the province.


The top five disciplines of respondents included:

Theatre

(

44%

),

Music

(

36%

),

Visual Arts

(

31%), Community Arts (29%), and Dance(24%).

If individuals were offered unrestricted funds today, the priority categories selected by the most respondents were to cover fixed costs (rent, hydro, phone), costs to create or develop their art, and professional development toward their work in the arts.
If organizations were offered unrestricted funds today, the priority category selected by the most respondents was to invest in the creation of arts and culture programming.
On average, a higher percentage of organization respondents (77%) feel well informed about sector and government updates, compared to those who responded as individuals (57%).

Organizations are slightly more optimistic about their own recovery now than in December, while individuals are much more optimistic.

Overall, both organizations and individuals are slightly more optimistic about B.C.'s arts and culture sector's recovery today compared to responses in December.
Individuals from underrepresented and marginalized communities saw a significant increase in optimism in the last 5 months compared to those who are not from those communities.

Organizations
Across 204 organizations in B.C., approximately one in five senior staff and board members identify as Indigenous or racialized. Percentage varies greatly based on region.

Compared to the previous three month period, organizations expect a net increase in the number of staff, artist contracts, and hours worked over the next three months.
Most organizations identified that they face multiple obstacles, including current government restrictions relating to public health orders (80%); and uncertainty of government response to plan effectively (69%).
Compared to December, a higher percentage of organizations identified government regulations (+13%) and uncertainty of government response (+23%) as an obstacle, while financial constraints (-14%), lack of resources to adapt to the current reality (-13%), and inability to access space or equipment(-13%) saw a drop compared to December.
Venue-Operating Organizations

Most venue-operating organizations (61%) would require 3 weeks to 2 months to plan their first in-person event, if indoor gatherings of up to 50 are permitted. 9% of respondents would require more than 50 attendees for their event to be viable.
A higher percentage of organizations that operate a venue used for programming face a variety of obstacles, compared to those without a venue.

If mass gathering restrictions are extended or reinstated in the next 6 months, those with venues or facilities are less financially prepared (57%) than those without venues (72%).
Most individuals identified that they face multiple obstacles, including general uncertainty and inability to plan for the future (82%); increased stress or shortage of energy and motivation (80%); and shortage of available work opportunities (62%).
Although more Indigenous and racialized respondents have a higher degree of optimism for the sector's ability to recover, they identified more obstacles than their non-Indigenous and racialized colleagues.
40% of individuals say their relationships with friends and family (outside their household) have gotten worse, compared to before the pandemic. 30% say the same about their relationship with their work colleagues.
Individuals who have already received their first dose of a vaccine are only slightly more comfortable in certain work and non-work indoor environments, compared to those who have not yet received their first dose but intend to. Comfort level is expected to significantly increase one month after full vaccination.
While 34% of artists and arts workers project they would earn less than $20K this year, 21% said they don't know or it was too difficult to estimate at this time.
Summary Report
Questions and Further Analysis
If you have questions about the report, or are seeking other segmented information, by discipline, region, demographics, or others, contact Executive Director Kenji Maeda with your specific request.
Past Impact Survey Reports and Backgrounder