Conference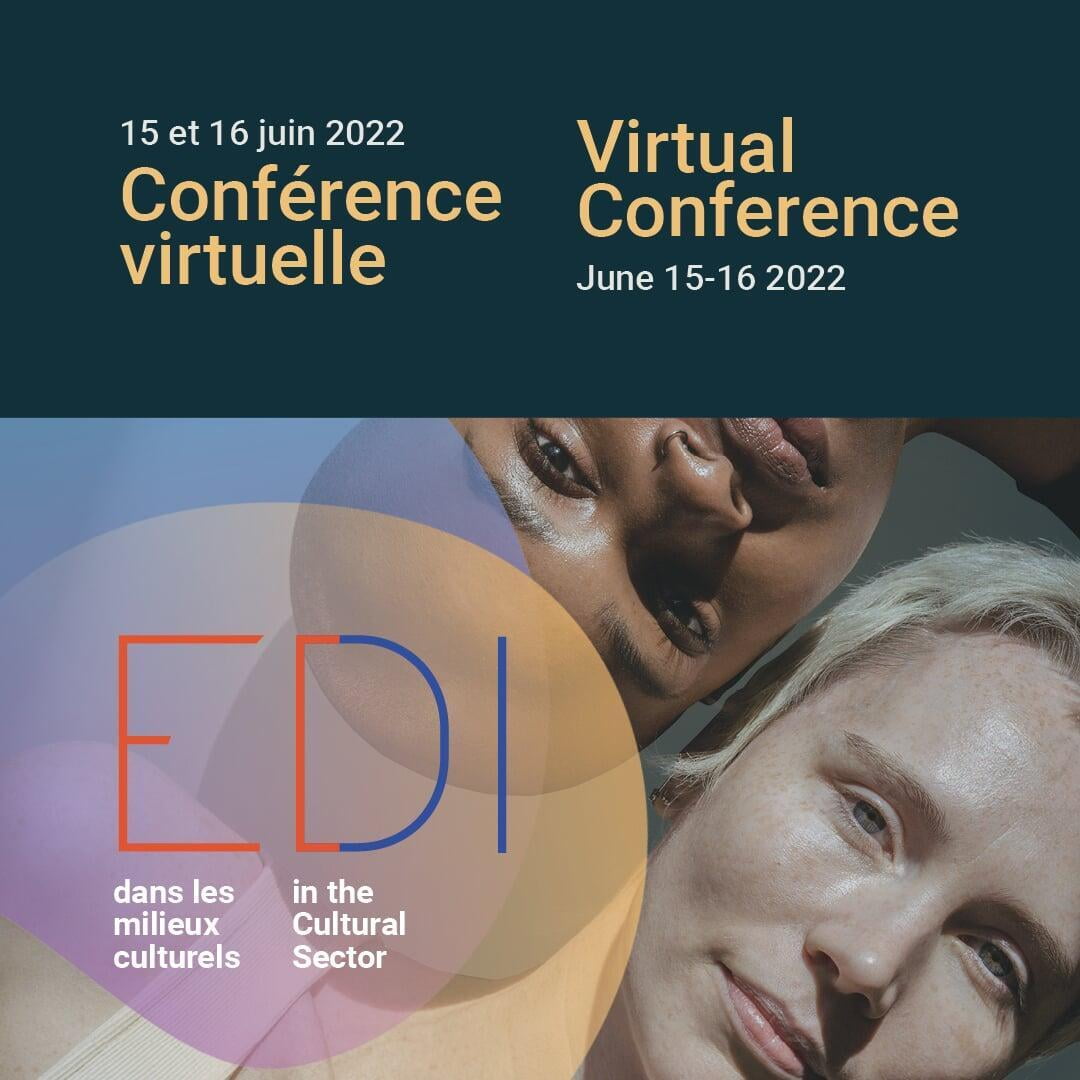 ​
Pan-Canadian virtual conference:
​
Equity, Diversity and Inclusion in the Cultural Sector: The Role of Cultural Organizations
Online June 15–16, 2022 (Zoom)
9:00am–5:00pm PT

FREE
Along with our co-hosts at the
Université du Québec en Outaouais (UQO)
, GVPTA presented
a FREE, virtual conference to bring together artists, arts practitioners, and cultural workers as well as researchers interested in EDI within the arts, culture, and heritage sector throughout Canada.
The event aimed to foster communication between researchers and practitioners in order to generate new knowledge about and actions toward improving equity, diversity, and inclusion in cultural settings, and specifically within cultural organizations. The dialogue was intended to provide cultural organizations with tools and to offer researchers a better understanding of experiences in the field. This compendium of experiences and research results will contribute to the development of new knowledge rooted in the practice of EDI within our industry.
Session themes included:
Organizations: Initiatives and case studies that explore equity, diversity, and inclusion

Communities: Understanding community context to strengthen the sector


Governance: Strategies for rethinking equitable and impactful policies and practices
Programming Overview
Click the session titles below to open the session description, presenter details, and related interpretation information (including French, English, ASL, LSQ, and captions). Sessions presented via Zoom webinars.
Wednesday, June 15
Thursday, June 16
Access, Diversity, Equity, & Inclusion (ADEI) in Cultural Organizations: Challenges and Opportunities

(presentation)

–

Antonio C. Cuyler, Florida State University, University of Michigan, Cuyler Consulting

;




Reimagining Funding

(panel) -

Jordan Baylon,

Krystal Paraboo,

Stephanie Falcon (Vancouver Foundation)

, Jiv Parasram (moderator)

What does the future hold for EDI in the cultural sector?

(panel)

-

Julien Doris (moderator);

Vivek Venkatesh (

Director of the Centre for the Study of Learning and Performance (CSLP), Concordia University, Professor of Inclusive Visual Arts Practices in the Department of Art Education);

Rhonda Doxtator (

First Peoples Innovation Centre); Karla Etienne (

Canadian Dance Assembly);

Yusuf Saadi;
Acknowledgements
This project was supported in part by funding from the Social Sciences and Humanities Research Council (SSHRC).
Additional support for this conference was provided by the Province of British Columbia and the BC Arts Council.

This conference is organized by representatives of Université du Québec en Outaouais and the Greater Vancouver Professional Theatre Alliance.
2021 Making a Scene Forum: Seizing Opportunities
The Greater Vancouver Professional Theatre Alliance's annual conference was re-imagined for 2021 as a digital forum to discuss what post-pandemic, post-now can look like for the theatre industry. Knowing what we know now, after more than a year of reacting, how do we step into possibilities and opportunities with intention?

ASL interpretation and Zoom auto-captioning were provided.

Sessions were recorded and are viewable through GVPTA's YouTube channel. Click the links below to access each session's recording.
Did you missed registering for the conference, please consider making a charitable donation to GVPTA to support our efforts to produce more learning opportunities.
Gesturing Beyond the House Modernity Built

with Dr. Vanessa Andreotti, Azul Carolina Duque, and Kyra Royo. View the recording.
2021 Making a Scene Forum was supported by the following sponsors and funders:

2019 Making a Scene Conference
Thank you to all of the conference delegates, presenters, panelists, moderators, facilitators, volunteers, programming partners, and supporters who joined us for GVPTA's 20th annual Making a Scene theatre conference! Over the course of three days, over 200 individuals from the theatre community took part in conference activities at
SFU Woodward's Goldcorp Centre for the Arts
(May 28) and
The Post at 750
(May 29 & 30).
Primary programming included a range of engaging, honest, and challenging panel discussions, presentations, breakout sessions and networking opportunities. Many of you participated in conversations that were at times difficult, uncomfortable, and made you vulnerable, and we are grateful to all of those who took part and enabled these discussions to take place within a safe space. We look forward to continuing to work together with you all to explore these important issues further, and to support and strengthen our community and our sector.
Standalone workshops on Intimacy Direction with Siobhan Richardson and Beginner's QLab at The Post at 750 were well-received, and we heard that many are interested in more of this type of professional development.
Many thanks to all of those who attended our closing event Ephemera 2: An Archiving Party, presented in partnership with Rumble Theatre, Theatre Replacement, and SFU Library, to help create a time capsule for the performing arts that is now housed in SFU Library's Special Collections.
2019 Conference Materials
Check out some of the
photos from the event at SFU Woodward's on our Facebook page
(those images and the ones above credited to Alisha Weng), and while you're at it like our page so you view all of our news and updates in your Facebook feed. Do you have some great photos from the conference? Please share them and tag us on social media!
Primary Conference Programming
Tuesday, May 28, 2019 | SFU Woodward's Goldcorp Centre for the Arts
The conference kicked off with a keynote by director, playwright, and actor Kim Senklip Harvey from the Syilx, Tshilqot'in, Ktunaxa and Dakelh Nations. Conference programming featured a diverse range of breakout sessions, workshops, and presentations, bringing up questions, conversations, and learning relevant for the theatre community. Check out the Programming page for full details.
Following afternoon programming, appetizers were provided (courtesy of GVPTA) at the Charles Bar, prior to evening programming in the theatre. Yours, Mine, and Ours: Much Ado About Something (When Storytelling and Copyright Collide), was a panel discussion presented in partnership with Artists' Legal Outreach. Theatre artists Erin Pike and James Long (Theatre Replacement) were joined by lawyer Martha Rans and moderator Jivesh Parasram (Rumble Theatre) for a discussion on navigating art, copyright, and the threat of legal action. Free to delegates; tickets $10 for general public. See full details on the Programming page.
Special Activities & Add-On Conference Workshops
Wednesday, May 29 and Thursday, May 30, 2019 | The Post at 750
On May 29 and 30 we presented optional add-on workshops, including two Intimacy Direction Workshops with Siobhan Richardson (by application only; separate workshop registration required) and a Beginner's QLab Workshop (free to delegates; separate registration required. Limited space available).
The conference closed with a wrap party on May 30, open to all; Ephemera 2: An Archiving Party was presented in partnership with Rumble Theatre, Theatre Replacement, and SFU. Free to attend.
Intimacy Direction Workshop with Siobhan Richardson
Add-on / standalone workshops. Application required
Wednesday, May 29 - Directors & Choreographers

6-hour session (FULL); 9:30am–4:30pm; 1-hour lunch break on your own

Thursday, May 30 - Broadly open to directors

(theatre, film & television), choreographers, actors, dancers, teachers 4-hour session; 9:30am–2:30pm; 1-hour lunch break on your own
We presented two Intimacy Direction workshops with Siobhan Richardson (with discounted rates for conference delegates). Participants gained a greater understanding of the role of an Intimacy Director and learned how to begin to incorporate best practices in rehearsal.
Add-on / standalone workshop
Wednesday, May 29, 2019, 10:00am–12:00pm | The Post at 750
This interactive session introduced participants to the fundamentals of QLab software to run sound and video in theatre. Facilitators covered all the basic functions of the software, then create a showfile from scratch as they illustrate some of what is possible with this powerful tool.
This beginner's workshop is ideal for anyone who is curious about the QLab software but hasn't yet had the opportunity to try it or spend much time learning it.
Participants are encouraged to bring their own Apple Macbook with QLab 4 software installed (available for free download at figure53.com/qlab) and build the showfile along with facilitators, however computers are not required to participate in the workshop.
All theatre artists, including designers, directors, performers, stage managers and technical directors welcome.
Candelario Andrade, video designer
Mishelle Cuttler, sound designer
Conference Delegate Rate: FREE (separate Eventbrite registration required).
Standalone Workshop Rate: $20
ADC / PGC / Equity / PACT / GVPTA Member Standalone Workshop Rate: $15
Limited to 20 participants.
Not attending the conference? Limited space is available for non-conference delegates.
If cost is prohibitive, email executivedirector@gvpta.ca to inquire about subsidy options.
Ephemera 2: An Archiving Party (Closing Event)
Thursday, May 30, 2019, 6:30–9:00pm (FREE)
The Post at 750

Performance is unique and ephemeral, to be experienced in the moment. But once it has passed, what remains? Many wish to retain some tangible trace of the experience, a narrative that serves as a memory of past events, an interpretation of what we've done and where we've been. What can we do with the material detritus that represents the path and process of our creative works, from initial idea to development to performance? The 2019 Making a Scene conference closed with snacks, drinks, and socializing, while creating a collective time capsule for the performing arts.
Following their successful event in 2018, Rumble Theatre and Theatre Replacement with Simon Fraser University partnered with GVPTA to present Ephemera 2: An Archiving Party. Celebrate, commemorate, and collectively tell the stories of our work, representing a moment in time and in the history of your organization. Share the traces of performances once present but now gone.
Guided by Melissa Sarlin, Head of Special Collections and Rare Books at the SFU Library, members of the performing arts community were invited to create a paper trail contributing to a physical repository which will be incorporated into SFU's Special Collections. As a group, we organized, structured, catalogued, and preserved detritus of past performances, celebrating our shared memories and our history.
In advance of this year's event, Jiv Parasram, Artistic Director of Rumble Theatre, went to SFU's Special Collections to study the current Ephemera archive. You can read his thoughts and reflections on the 2018 collection, and his suggestions on how to frame the direction for this year's gathering here.
As Jiv notes in his reflection, you can be part of the event by both being present and by bringing artefacts to the gathering: "[Bring] more artefacts. Things that speak to process by their existence. I'm also interested to see more artefacts that speak to what it is that's most valued by artists – strange loaded items. So bring your process and creation bits, your weird thing kicking around your office that can provoke an imagined story; hell – bring your strategic plans and let's see where we all think we're headed. Bring your bad reviews. Please bring your bad reviews. We all have them. And beyond being hilarious in retrospect, they speak a lot about the landscape we're creating in."
Making a Scene Conference Background
Since 2000, GVPTA has produced the annual Making a Scene conference, which has been essential to building and maintaining a community that fosters support, understanding and a common goal of strengthening the local theatre industry. Through presentations, working sessions and opportunities for social gathering, the conference has offered attendees the chance to delve into discussions with colleagues, friends and new acquaintances, all of whom are passionate about theatre.
Making a Scene typically happens in person each spring. Anyone who is interested in theatre and the performing arts is invited. Whatever your connection to theatre – on stage, back stage, or off stage – you are invited.
Whether you are an arts administrator,

thespian,

artist of any kind, designer, technician,
critic,
educator, student,
volunteer, or theatre enthusiast – you are ALL invited.