Conference
Making a Scene Overview
Since 2000, GVPTA has produced the annual Making a Scene conference, which has been essential to building and maintaining a community that fosters support, understanding and a common goal of strengthening the local theatre industry. Through presentations, working sessions and opportunities for social gathering, the conference has offered attendees the chance to delve into discussions with colleagues, friends and new acquaintances, all of whom are passionate about theatre.
Making a Scene typically happens in person each spring. Whatever your connection is to theatre, you are invited. Whether you are an arts administrator,
thespian,
artist of any kind, designer, technician,
critic,
educator, student,
volunteer, or theatre enthusiast – you are ALL invited.
The 2023 Making a Scene Conference acknowledges the support of the following organizations and funders: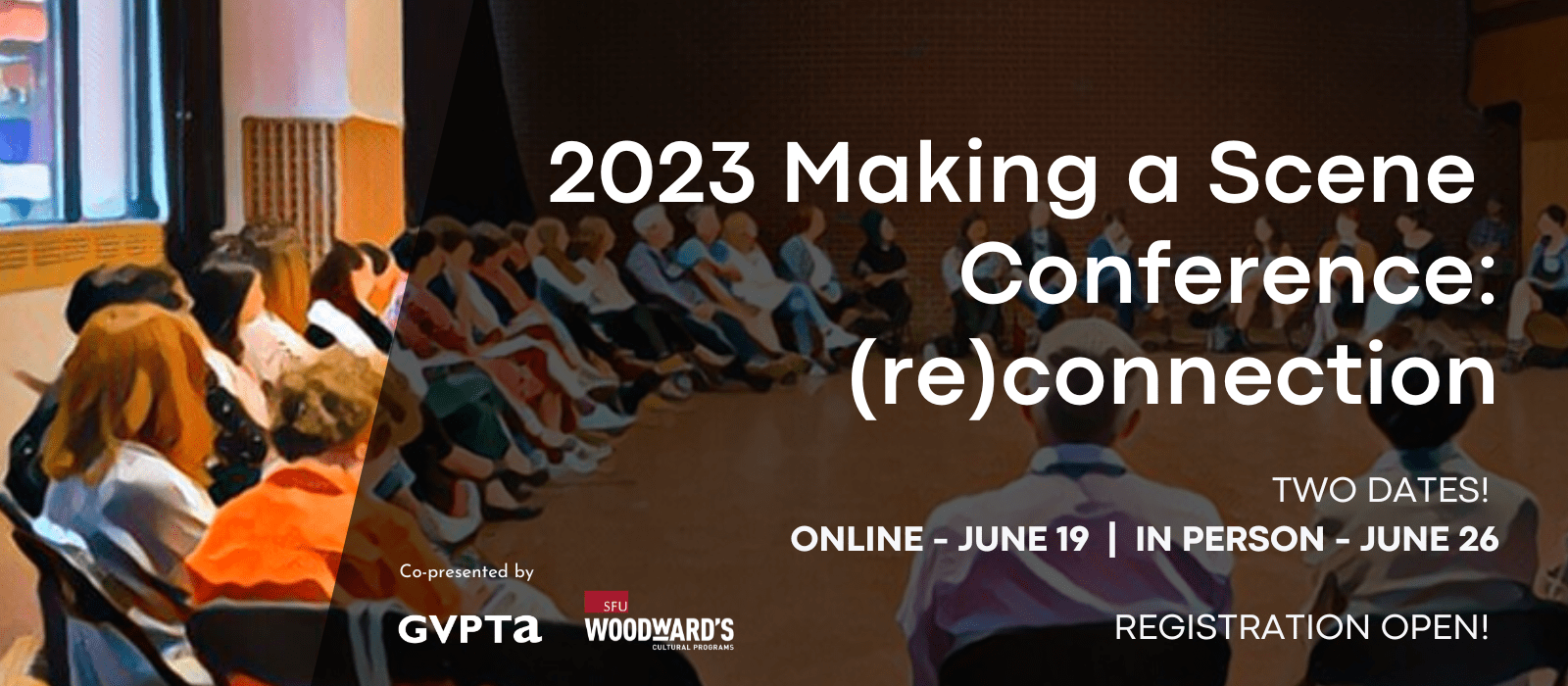 2023 Making a Scene Conference:
(re)connection
GVPTA is excited to announce the return of our Making a Scene conference.
Registration is now open!
The 2023 conference takes place with two components: Online (June 19) and In-Person (June 26)
June 19, 2023

- Online (Zoom webinar), 11:30am–5:00pm; three sessions throughout the day. Free to attend.

June 26, 2023

- In person (SFU's Goldcorp Centre for the Arts, 149 West Hastings Street, Vancouver), 11:00am–4:00pm - activities, conversations, brainstorming, reflecting, and a hot lunch. Sliding scale registration. Presented in partnership with SFU Woodward's Cultural Programs (SFUW).
Register for one or both dates!
All three sessions online using Zoom. Each 90-minutes. Free to attend.

Session 1: Facilitating Community Discussion Through Art: Neworld's Critical Futures
This interactive session will include a presentation on Neworld Theatre's
Critical Futures
program – a training program for emerging BIPOC theatre reviewers – followed by a conversation with attendees about the role, impact, and contributions reviewers have for their or their company's arts practice.
Shanae Sodhi

Angelica Schwartz


Vivian Li

Angie Rico

Reham Cojuangco



Session 2: Fatphobia and Body Diversity in the Theatre Sector
This panel will discuss the ways in which the theatre sector has historically engaged with artists in larger bodies, and how that may or may not be changing as we move forward. The conversation will touch on implicit and explicit biases that fat artists encounter throughout their careers, and ways in which the sector can reexamine our assumptions.
Cheyenne Rouleau

Layla Cameron




Dr. Layla Cameron is a Lecturer at the School of Communication at Simon Fraser University where their teaching and research is grounded in fat studies and queer cultural studies. In addition to their work in academia, they explore issues pertaining to fatness through film, printmaking, and other creative practices.

Pedro Chamale

Steffanie Davis


Steffanie Davis (she/her) is a professional actor, singer and dancer. This year she was one of ten plus-size artists from across Canada chosen to participate in the first ever Leading Players Project in Toronto with EveryBody On Stage. Select theatre credits include: The Killer Queen in We Will Rock You (Theatre Under The Stars); Cabaret (Raincity Theatre); Grease (Chemainus); Stile & Drewe's The Three Little Pigs, Velveteen Rabbit, Go, Dog.Go! (Carousel Theatre); The Best Laid Plans (Patrick Street Productions). Next up: Isabelle in the world premiere of Someone Like You on stage at the BMO Theatre with the Arts Club Theatre Company this October. After that catch her playing Belle in this year's East Van Panto! IG: @Steffwithanff

Session 3: Questions I'm Asking Myself: Introspective conversations with leaders and practitioners
Following the model of the series produced in 2020, this session will include leaders within the theatre community to delve into the questions rather than the answers. This is not a workshop. This is not an "expert" panel. This is a conversation to explore our deep curiosities of the now.
B

oomer Stacey


Boomer first joined PACT in 2010 and, after serving the organization in a variety of positions, transitioned to the role of PACT's Executive Director in 2019. As he is currently the outgoing ED at PACT, he is also Artistic Producer at Boca del Lupo and an Artistic Advisor at the New Victory Theater in New York City. Boomer has also provided leadership for the International Performing Arts for Youth (IPAY) based in Philadelphia, PA, as Executive Director, as well as Artistic Director of the Milk International Children's Festival of the Arts at Harbourfront Centre in Toronto. Boomer exhibits nomadic tendencies, is a social introvert, loves to cook, excels at gazing into campfires and lives to explore the coastlines of the world.

Kenji Maeda


Kenji's experiences are diverse and grounded in his passion for the arts, education, and building community, and influenced by his Uchinanchu heritage. In addition to his role at GVPTA, Kenji is the Project Director for SEARA (Sector Equity for Anti-Racism in the Arts), and an arts and culture consultant. He currently sits on the board of Mass Culture, a national organization where research and the cultural sector intersect, and an alum of the Banff Centre's Cultural Leadership Program. He loves spreadsheets, chewy chocolate chip cookies, and his husband, Alan.

11:00am–4:00pm - In person

Location:

SFU's Goldcorp Centre for the Arts (
World Art Centre),
149 West Hastings Street, Vancouver, BC
Our in-person event on June 26 focuses on the theme of (re)connection. As our first in-person conference since 2019, the content will focus on rebuilding and building upon the relationships that exist within the community.
Through activities, conversations, brainstorming, reflecting, and a hot lunch, attendees will (re)connect with each other, look toward the future of the theatre community, and offer/receive ways to leverage our collective knowledge, skills, resources, and relationships, to strengthen each other and our sector.
Hot lunch is offered (vegan, vegetarian, gluten free options will be available).
NOTE:
Space at the in-person event on June 26 is limited.
Registration for the June 26 in person event is offered with two options:
Sliding scale pricing

(from $0–$75+GST) to accommodate a range of financial needs and reduce barriers to participation. Your fees will go toward financially supporting other theatre artists and workers to attend the conference. (

Registration has closed

)


Up to 20 individuals will be paid $200 each to attend the conference

, and offer a brief post-conference reflection to GVPTA. (Applications have closed)


Priority will be given to individuals who require financial support in order to attend the conference.
The names of those selected will not be shared publicly.
Initial closing date to submit an application will be 4pm, Thursday, June 15, as initial batch of invitations will be sent out on Friday, June 16.
Applications will be accepted

after

June 15, if spots are still available.
Questions can be directed to executive director Kenji Maeda at kenji@gvpta.ca.


Masks:

Masks are recommended for the in-person event but are not required. Attendees who would prefer to sit at a table with other attendees wearing a mask can make that request in the registration form.

Wheelchairs:

SFU's Goldcorp Centre for the Arts is wheelchair accessible.

ASL interpreters

June 19 (online) - Will be in attendance for all online webinars.
June 26 (in-person) - Are available upon request by 4pm, June 15 through the registration form.

Captioning:

Auto-captioning will be provided for the Zoom webinar component on June 19.

Recording:

The online sessions on June 19 will be recorded and shared on GVPTA's website for a limited time following the conference. The in-person event on June 26 will not be recorded.

Financial:

We are offering both a sliding scale registration fee ($0–$75+GST) as well as an offer of $200 to be paid to up to 20 participants who require additional financial support in order to attend the June 26 event. See the application form for details.

Scent-reduced:

We ask attendees to refrain from using and wearing scented products at the conference, in order to respect and include individuals who may have allergies or sensitivities to common chemicals and fragrances.
Visit the tabs above for archival information about past conferences.
Note that there was no conference in 2020 due to the COVID-19 pandemic.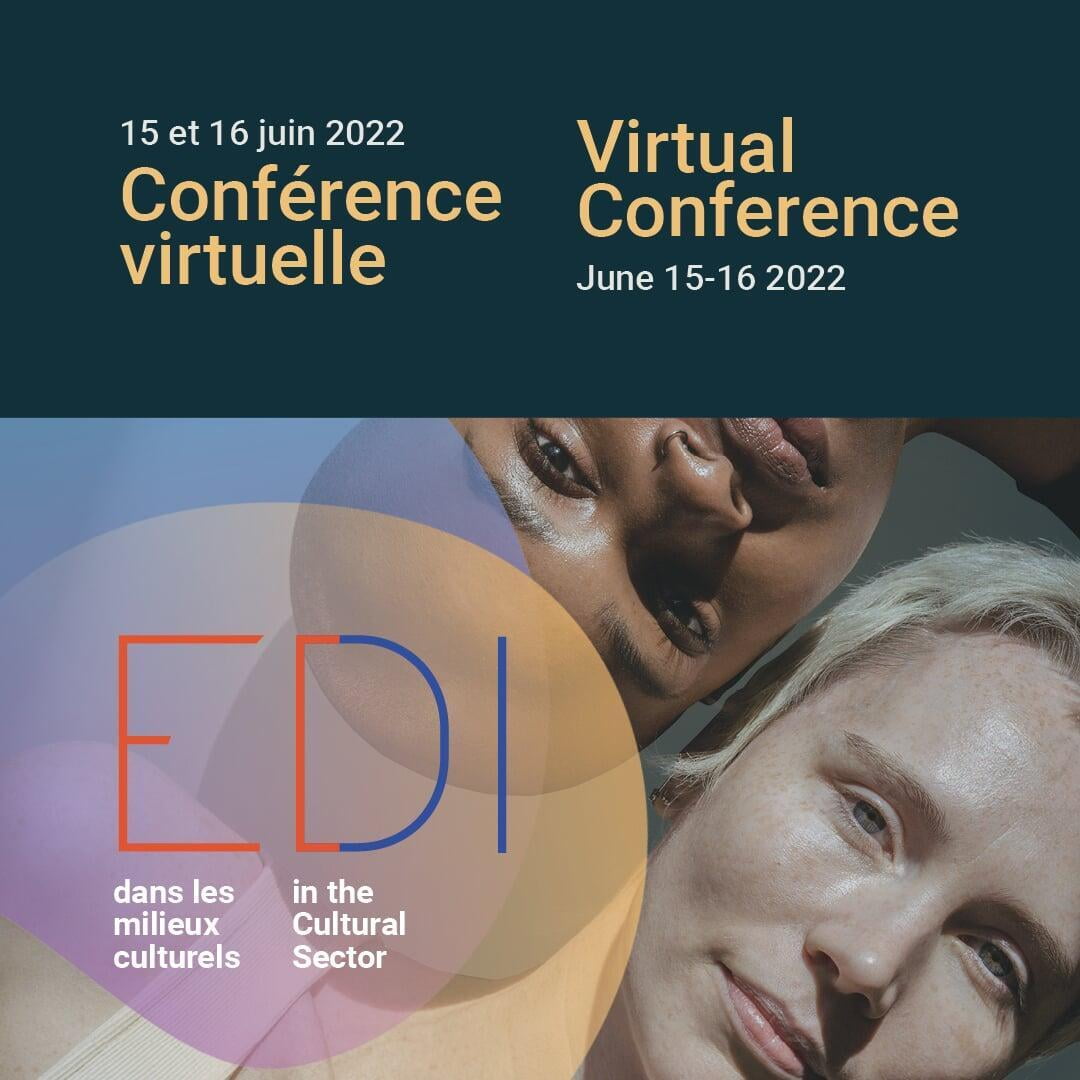 ​
Pan-Canadian virtual conference:
​
Equity, Diversity and Inclusion in the Cultural Sector: The Role of Cultural Organizations
Online June 15–16, 2022 |
FREE
Along with our co-hosts at the
Université du Québec en Outaouais (UQO)
, GVPTA presented
a FREE, virtual conference to bring together artists, arts practitioners, and cultural workers as well as researchers interested in EDI within the arts, culture, and heritage sector throughout Canada.
The event aimed to foster communication between researchers and practitioners in order to generate new knowledge about and actions toward improving equity, diversity, and inclusion in cultural settings, and specifically within cultural organizations. The dialogue was intended to provide cultural organizations with tools and to offer researchers a better understanding of experiences in the field. This compendium of experiences and research results will contribute to the development of new knowledge rooted in the practice of EDI within our industry.
Session themes included:
Organizations: Initiatives and case studies that explore equity, diversity, and inclusion

Communities: Understanding community context to strengthen the sector


Governance: Strategies for rethinking equitable and impactful policies and practices
Click the Learn More button below to be routed to the conference website for further information, or read the programming overview below.
Programming Overview
Click the session titles below to open the session description, presenter details, and related interpretation information (including French, English, ASL, LSQ, and captions). Sessions presented via Zoom webinars.
Wednesday, June 15
Thursday, June 16
Access, Diversity, Equity, & Inclusion (ADEI) in Cultural Organizations: Challenges and Opportunities

(presentation)

–

Antonio C. Cuyler, Florida State University, University of Michigan, Cuyler Consulting

;




Reimagining Funding

(panel) -

Jordan Baylon,

Krystal Paraboo,

Stephanie Falcon (Vancouver Foundation)

, Jiv Parasram (moderator)

What does the future hold for EDI in the cultural sector?

(panel)

-

Julien Doris (moderator);

Vivek Venkatesh (

Director of the Centre for the Study of Learning and Performance (CSLP), Concordia University, Professor of Inclusive Visual Arts Practices in the Department of Art Education);

Rhonda Doxtator (

First Peoples Innovation Centre); Karla Etienne (

Canadian Dance Assembly);

Yusuf Saadi;
Acknowledgements
This project was supported in part by funding from the Social Sciences and Humanities Research Council (SSHRC).
Additional support for this conference was provided by the Province of British Columbia and the BC Arts Council.

This conference is organized by representatives of Université du Québec en Outaouais and the Greater Vancouver Professional Theatre Alliance.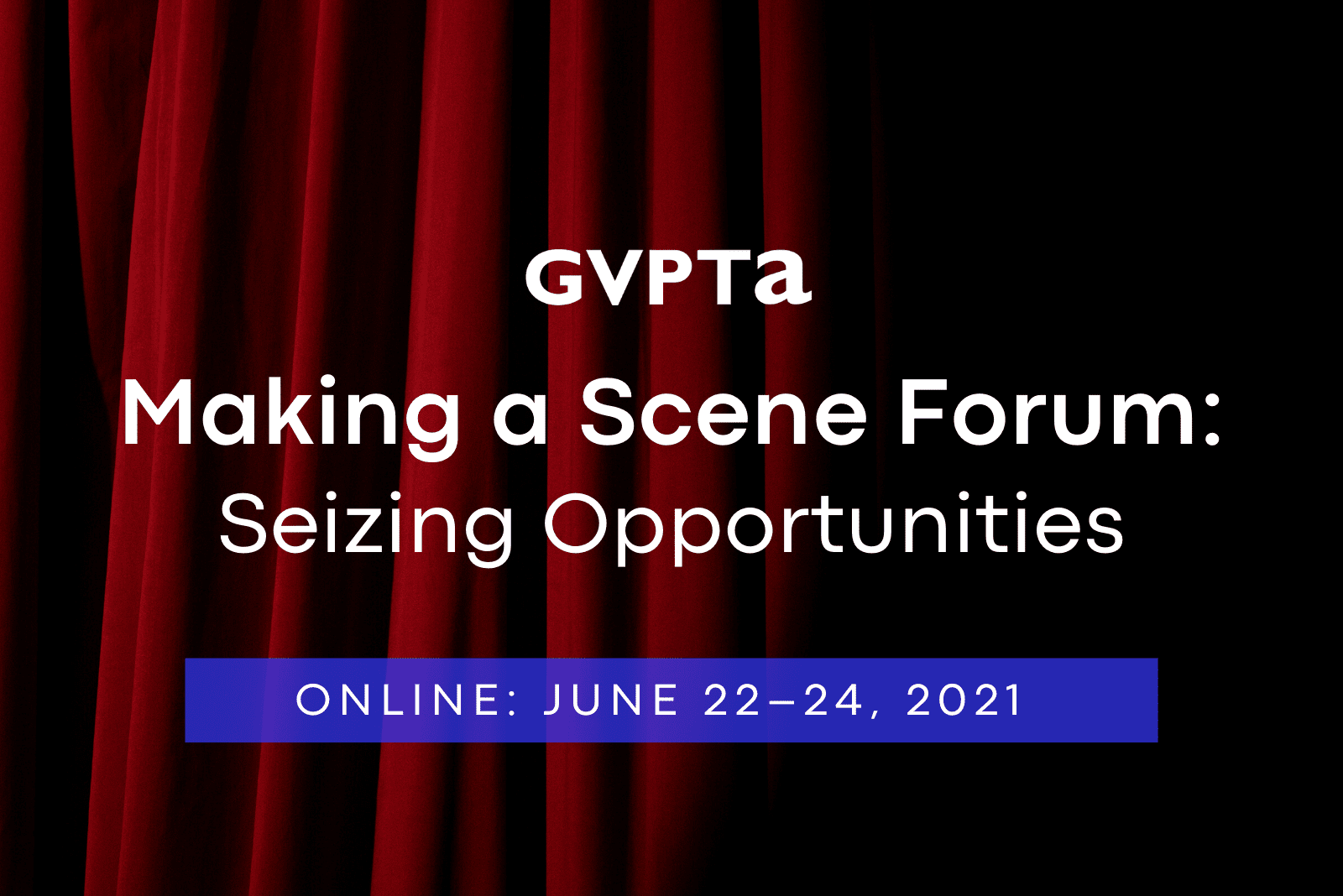 2021 Making a Scene Forum: Seizing Opportunities
The Greater Vancouver Professional Theatre Alliance's annual conference was re-imagined for 2021 as a digital forum to discuss what post-pandemic, post-now can look like for the theatre industry. Knowing what we know now, after more than a year of reacting, how do we step into possibilities and opportunities with intention? ASL interpretation and Zoom auto-captioning were provided.
Sessions were recorded and are viewable through GVPTA's YouTube channel. Click the links below to access each session's recording.
If you missed registering for the conference, but have found the recordings valuable, please consider making a charitable donation to GVPTA to support our efforts to produce more learning opportunities.
Gesturing Beyond the House Modernity Built

with Dr. Vanessa Andreotti, Azul Carolina Duque, and Kyra Royo. View the recording.
2021 Making a Scene Forum was supported by the following sponsors and funders: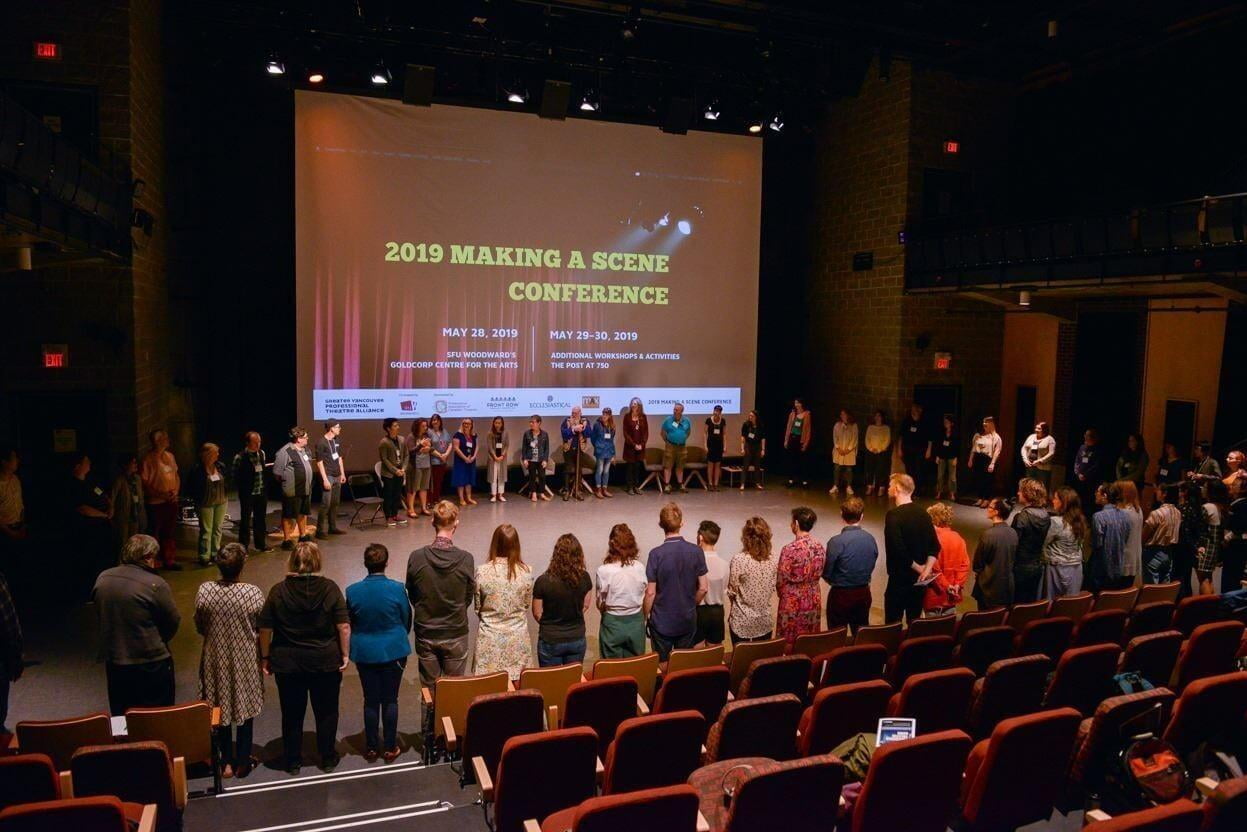 2019 Making a Scene Conference
Over 200 individuals from the theatre community took part in conference activities at SFU Woodward's Goldcorp Centre for the Arts (May 28, 2019) and The Post at 750 (May 29 & 30, 2019).

Primary programming included a range of engaging, honest, and challenging panel discussions, presentations, breakout sessions and networking opportunities. Many participated in conversations that were at times difficult, uncomfortable, and made you vulnerable, and we are grateful to all of those who took part and enabled these discussions to take place within a safe space. We look forward to continuing to work together with you all to explore these important issues further, and to support and strengthen our community and our sector.
Standalone workshops included Intimacy Direction with Siobhan Richardson and Beginner's QLab.

The closing event was Ephemera 2: An Archiving Party, presented in partnership with Rumble Theatre, Theatre Replacement, and SFU Library, to help create a time capsule for the performing arts that is now housed in SFU Library's Special Collections.
Photo credit: Alisha Weng
Primary Conference Programming
Tuesday, May 28, 2019 | SFU Woodward's Goldcorp Centre for the Arts
The conference kicked off with a keynote by director, playwright, and actor Kim Senklip Harvey from the Syilx, Tshilqot'in, Ktunaxa and Dakelh Nations.
Kim has posted her full keynote to her blog here
.
Conference programming featured a diverse range of breakout sessions, workshops, and presentations, bringing up questions, conversations, and learning relevant for the theatre community.
Following afternoon programming, appetizers were provided (courtesy of GVPTA) at the Charles Bar, prior to evening programming in the theatre.
Yours, Mine, and Ours: Much Ado About Something (When Storytelling and Copyright Collide)
, was a panel discussion presented in partnership with
Artists' Legal Outreach
. Theatre artists Erin Pike and James Long (Theatre Replacement) were joined by lawyer Martha Rans and moderator Jivesh Parasram (Rumble Theatre) for a discussion on navigating art, copyright, and the threat of legal action.
Intimacy Direction Workshop with Siobhan Richardson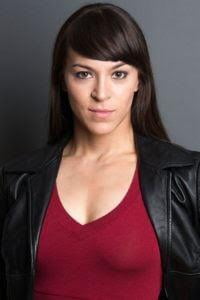 Add-on / standalone workshops
Wednesday, May 29

- Directors & Choreographers

- 6-hour session (FULL); 9:30am–4:30pm

Thursday, May 30

- Broadly open to directors

(theatre, film & television), choreographers, actors, dancers, teachers - 4-hour session; 9:30am–2:30pm
Participants gained a greater understanding of the role of an Intimacy Director and learned how to begin to incorporate best practices in rehearsal.
Add-on / standalone workshop
Wednesday, May 29, 2019

- 10:00am–12:00pm | The Post at 750
Facilitators:
Candelario Andrade, video designer;
Mishelle Cuttler, sound designer
This interactive session introduced participants to the fundamentals of QLab software to run sound and video in theatre. Facilitators covered all the basic functions of the software, then create a showfile from scratch as they illustrate some of what is possible with this powerful tool. For beginners.
All theatre artists, including designers, directors, performers, stage managers and technical directors welcome.
Conference Delegate Rate: FREE |
Standalone Workshop Rate: $20 |
ADC / PGC / Equity / PACT / GVPTA Member Standalone Workshop Rate: $15
Subsidy options available.
Ephemera 2: An Archiving Party (Closing Event)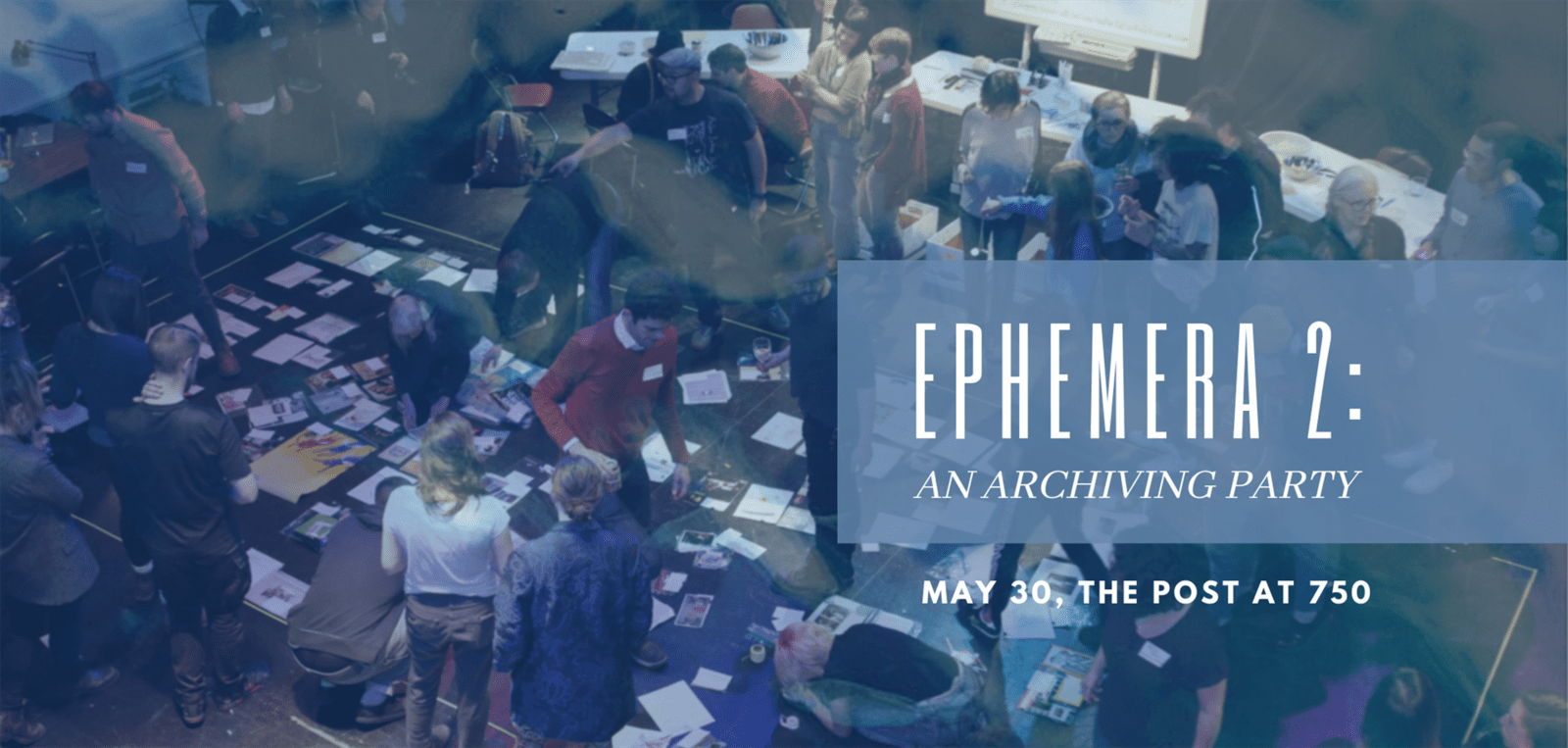 Ephemera 2: An Archiving Party (Closing Event)
Thursday, May 30, 2019 (FREE) | The Post at 750

Performance is unique and ephemeral, to be experienced in the moment. But once it has passed, what remains? What can we do with the material detritus that represents the path and process of our creative works, from initial idea to development to performance?
Following their successful event in 2018,
Rumble Theatre
and
Theatre Replacement
with
Simon Fraser University
partnered with GVPTA to present Ephemera 2: An Archiving Party.
Guided by Melissa Sarlin, Head of Special Collections and Rare Books at the SFU Library, members of the performing arts community were invited to a collective time capsule, a paper trail contributing to a physical repository which will be incorporated into SFU's Special Collections. As a group, we organized, structured, catalogued, and preserved detritus of past performances, celebrating our shared memories and our history.