Professional Development
GVPTA has been working over the past year to explore ways that we can help the community to navigate through and beyond COVID-19.
Check back for further updates about upcoming programs, and view past webinar recordings and/or summary notes, and workshop details by using the tabs above.
GVPTA presents and partners on a number of industry workshops and gatherings each year to provide a way for theatre community members to network and share knowledge. Learn about some of our most recent programs below.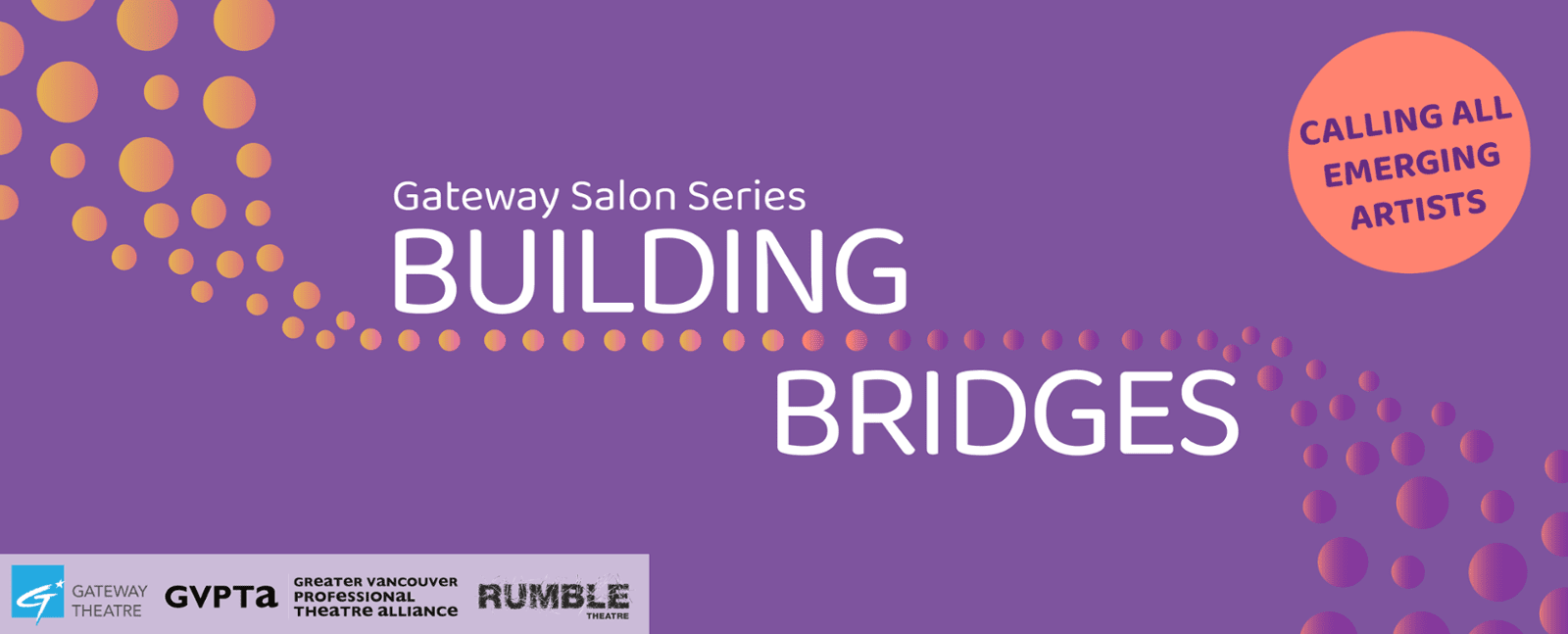 Gateway Salon Series: Building Bridges
Saturday, September 12 (2:00 pm & 7:00 pm) and Sunday, September 13 (2:00 pm)
Free to attend; registration required
GVPTA was pleased to partner with Gateway Theatre and Rumble Theatre to provide
an opportunity via Zoom for emerging artists to connect with like-minded creatives and explore resources for navigating the fast-changing world of performing arts.
Each digital salon featured artistic leaders from local companies who sharing their personal experiences and industry knowledge. Topics included finding your place in the theatre community, festival application and selection processes, opportunities for emerging Black, Indigenous, and woman-identifying theatre artists of colour, and opportunities for queer theatre artists.
Jasmine Chen (
Gateway Theatre
) and Jivesh Parasram (
Rumble Theatre
) co-hosted and facilitated, with technical support from GVPTA. Conversations expanded into breakout groups for an opportunity to meet fellow emerging artists and pose questions to speakers. ASL and closed captioning were provided.
Salon #1: Finding Your Voice

Saturday, September 12, 2:00PM
Artistic Directors Diane Brown and Kevin Loring share opportunities and resources for emerging Indigenous theatre artists as well as Black and woman-identifying artists of colour.
Through this vital conversation, discover ways to find your artistic voice and how to follow through on your vision.
Salon #2: Connecting with Meaningful Mentors
Featuring Playwrights Theatre Centre (PTC) and rice & beans theatre
Saturday, September 12, 7:00PM
rice & beans theatre co-founders Derek Chan and Pedro Chamale are joined by Joanna Garfinkel and Davey Samuel Calderon from Playwrights Theatre Centre to discuss finding your place in the theatre community. The panel will also share mentorship and professional development opportunities for emerging playwrights, actors, and producers.
Salon #3: Deepening Your Work & Knowing Your Worth
Sunday, September 13, 2:00PM
Artistic Producer Daniel Martin (Upintheair Theatre) and Artistic Director Fay Nass (the frank theatre company) discuss their partnership for the rEvolver Festival, including how artists can submit, what the application and selection process is, and what artistic opportunities are available for emerging queer artists. Learn about navigating the world of producing, presenting, and advocating for your work.
Hosted by
Identifying and Filling the Gaps in Sound Design



This workshop was an opportunity for artists who work with sound in live performance to come together and engage in conversation about their work. The definition of "Sound Design" in Canada is broad and often fluid, which means that most sound designers possess expertise in certain areas and knowledge gaps in others.




In this workshop we discussed the expectations that we face in this field and the skills and questions held by folks in the room. Through this investigation, we aim to strengthen our own understanding of our work, and to build a stronger network of knowledge-sharing opportunities throughout our community.