World Theatre Day

Celebrated annually on March 27, World Theatre Day was initiated in 1961 by the International Theatre Institute ITI to celebrate the value and importance of theatre in all of its forms across the globe. It serves as a bridge-builder for mutual understanding and peace as well as to protect cultural diversity and identity in communities across the world. Additionally, it acts as a wake-up-call for governments, politicians and institutions which have not yet recognized the value of theatre to the people and to the individual, and which have not yet realized its potential for economic growth.
The goals of World Theatre Day are:
To promote theatre in all its forms across the world.

To make people aware of the value of theatre in all its forms.

To enable theatre communities to promote their work on a broad scale so that governments and opinion leaders are aware of the value and importance of dance in all its forms and support it.

To enjoy theatre in all its forms for its own sake.

To share the joy for theatre with others.
Each year, ITI invites an outstanding figure in theatre or a person outstanding in heart and spirit from another field is invited to share his or her reflections on theatre and international harmony. What is known as the International Message is translated into more than 50 languages, read for tens of thousands of spectators before performances in theatres throughout the world, and printed in hundreds of daily newspapers.

In 2021, ITI held celebrations online. The International Message author was Helen Mirren.
World Theatre Day 2021 in Canada

Every year a messenger is selected from Canada by the Professional Association of Canadian Theatres (PACT), the Playwrights Guild of Canada (PGC) and l'Association des théâtres francophones du Canada (ATFC) as an ambassador of Canadian theatre for World Theatre Day, and invites Canadians to join in and experience the joy and the power of theatre.

This year we found ourselves celebrating this day under very unusual circumstances; a full year into the pandemic means that it's been a full year since we have been able to experience live performance and our venues remain shuttered. The organizations chose to depart from tradition and instead asked audiences, artists, and creators what they missed most about live theatre. Responses were compiled into a montage video to showcase the voices of Canadians from coast to coast to coast responding to the prompt, "I love theatre because…".

The Canadian message for World Theatre Day 2021 can be found here.

World Theatre Day 2021 in British Columbia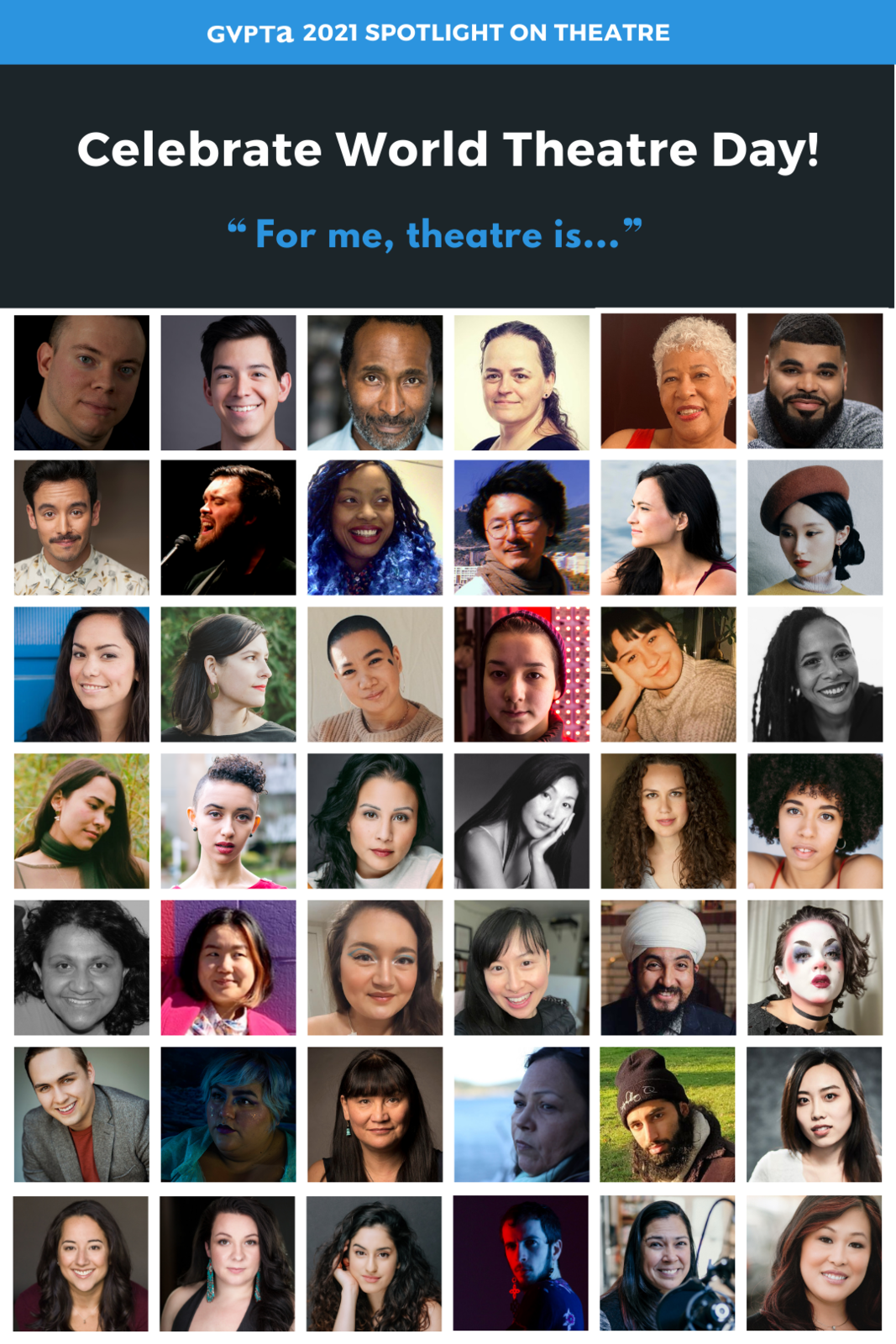 GVPTA commemorates World Theatre Day by sharing the Canadian message and campaign, raising the profile of the local theatre scene through public awareness activities, and aiding theatre companies to increase their community engagement around their related events.

In 2020 and 2021 the live performance industry has faced its most challenging times with venue closures due to COVID-19. In early 2021, GVPTA invited nearly 50 B.C. theatre artists and workers to help inspire the public to look forward to the return of live theatre by sharing their reflections on what theatre means to them as part of our Spotlight on Theatre program. Starting in January, a different individual from the theatre community was featured on GVPTA's social media channels each day, culminating in a promotion of the collective group as part of our World Theatre Day celebration.

Learn more about Spotlight on Theatre here.