​World Theatre Day
​​World Theatre Day 2022 Internationally

Created in 1961 by UNESCO, World Theatre Day is celebrated annually on March 27 by theatre communities around the globe. The impetus behind World Theatre Day is to honour and further the goal of UNESCO's International Theatre Institute (ITI) to celebrate the power of theatre to serve as an indispensable bridge-builder for mutual international understanding and peace as well as to promote and protect cultural diversity and identity in communities throughout the world.

The ITI commissions an international message each year in celebration of
World Theatre Day. The message for 2022 is written by opera, theatre, and festival director Peter Sellars. The message can be
read here
.
Learn more about World Theatre Day internationally by clicking here.
​​World Theatre Day 2022 in Canada

Every year in Canada, an outstanding playwright, actor, artistic director, storyteller, or creator is selected as an ambassador of Canadian theatre for World Theatre Day, and invites Canadians to join in and experience the joy and the power of theatre.

The Canadian World Theatre Day message is produced as a collaboration between the Professional Association of Canadian Theatres (PACT), the Playwrights Guild of Canada (PGC) and l'Association des théâtres francophones du Canada (ATFC). Each year one of the partner organizations takes the lead role on this project. This year PGC took the lead.
In 2022, three separate messages were produced from the Anglophone, Indigenous, and Francophone communities. Scroll down to watch each video, link to the text-based message, and read the biographies.
Anglophone Message
Makambe K Simamba is a Dora Award–winning playwright and actor for Our Fathers, Sons, Lovers and Little Brothers, which premiered at b current performing arts and was recently published by Playwrights Canada Press. Other plays include A Chitenge Story, The Drum Major Instinct Trilogy, Makambe Speaks, and MUD. Select acting credits include Our Fathers, Sons, Lovers and Little Brothers (Tarragon), A Chitenge Story, inVISIBLE (Handsome Alice), GIANT (Ghost River Theatre), Serving Elizabeth (Thousand Islands Playhouse), Bea (Sage Theatre), Winners and Losers (Chromatic Theatre), and SIA (Pyretic Productions). She was the 2020/2021 Urjo Kareda Artist-in-Residence at Tarragon Theatre. Makambe holds a BFA from the University of Lethbridge in Theatre and Dramatic Arts. Makambe is proudly Zambian, and her intention is to be of service to her community through her ability to tell stories.(Pyretic Productions). She was the 2020/2021 Urjo Kareda Artist-in-Residence at Tarragon Theatre. Makambe holds a BFA from the University of Lethbridge in Theatre and Dramatic Arts. Makambe is proudly Zambian, and her intention is to be of service to her community through her ability to tell stories.
Photo Credit: Lauren Vandenbrook
Indigenous Message
Debajehmujig was the first – and remains the only – professional theatre company located on a Reserve in Canada. The organization was founded by Shirley Cheechoo, Blake Debassige and a group of like-minded colleagues in 1983 in West Bay (M'Chigeeng First Nation) on Manitoulin Island, Ontario. In August of 1989, the company moved to Wiikwemkoong Unceded Territory, where it's headquarters remains to this day.
We create original work based on an Anishnaabe worldview that builds bridges between cultures, generations, and territories. We also support the development of Indigenous artists in remote rural areas as well as cities. Since 2009, we have operated a purpose-built multi-arts centre in downtown Manitowaning.
As an Indigenous theatre company, Debajehmujig represents an Indigenous worldview and reflects the reality of Native live. This worldview is a holistic approach to life and how all things are connected. We believe that as humans we create with our entire being – our physical, our emotional, our intellectual and our spiritual selves. Stories have been passed down for thousands of years by storytellers, musicians, record keepers and dancers. It is because it was never written own, that it survives. The history and the culture of the people is contained within the bodies of the people, in the muscle memory of the dancer, in the songs of the singers, in the stories of storytellers. We have travelled to many different places all over the world to share our message. 'De-be-jeh-mu-jig' translates as 'storytellers' from the Cree and Ojibwe language.
Francophone Message
Mishka Lavigne (she/her) is a playwright and literary translator based in Ottawa/Gatineau. Mishka wrote Cinéma, co-produced by Théâtre la Catapulte and Théâtre Belvédère in 2015 and the one-woman show Vigile, produced by Théatre Rouge Écarlate in Ottawa in 2017.
Her play Havre, premiered at La Troupe du Jour in September 2018 and at the POCHE/GVE in Geneva in January 2019. The play was awarded the 2019 Governor General's Literary Award for Drama (French). More recently, Copeaux, produced in Ottawa in March 2020 also won the the Governor General Award for Drama in November 2021 and the Prix Jacques-Poirier in February 2021.
Mishka also writes in English. Albumen, her first play in English received the Prix Rideau Award for Outstanding New Creation in 2019 and the QWF Playwriting Award in 2020. Mishka's newest play Shorelines will be published by Playwrights Canada. Mishka also creates audio projects, either solo or in collaboration (Le silence ici, Spoutnik: Hors des sentiers balisés, Kino-Radio 2021).
Mishka is currently working on two new projects for the stage and on a bilingual opera libretto with Montreal composer Tim Brady. Her play Murs will soon be on stage (Créations In Vivo, Théâtre Populaire d'Acadie) in Ontario and New Brunswick and was also adapted into a podcast by Transistor Médias.
Mishka is also a theatre and literary translator, translating both in French and English and has done about twenty translations of drama, prose, poetry.
​​World Theatre Day 2022 in British Columbia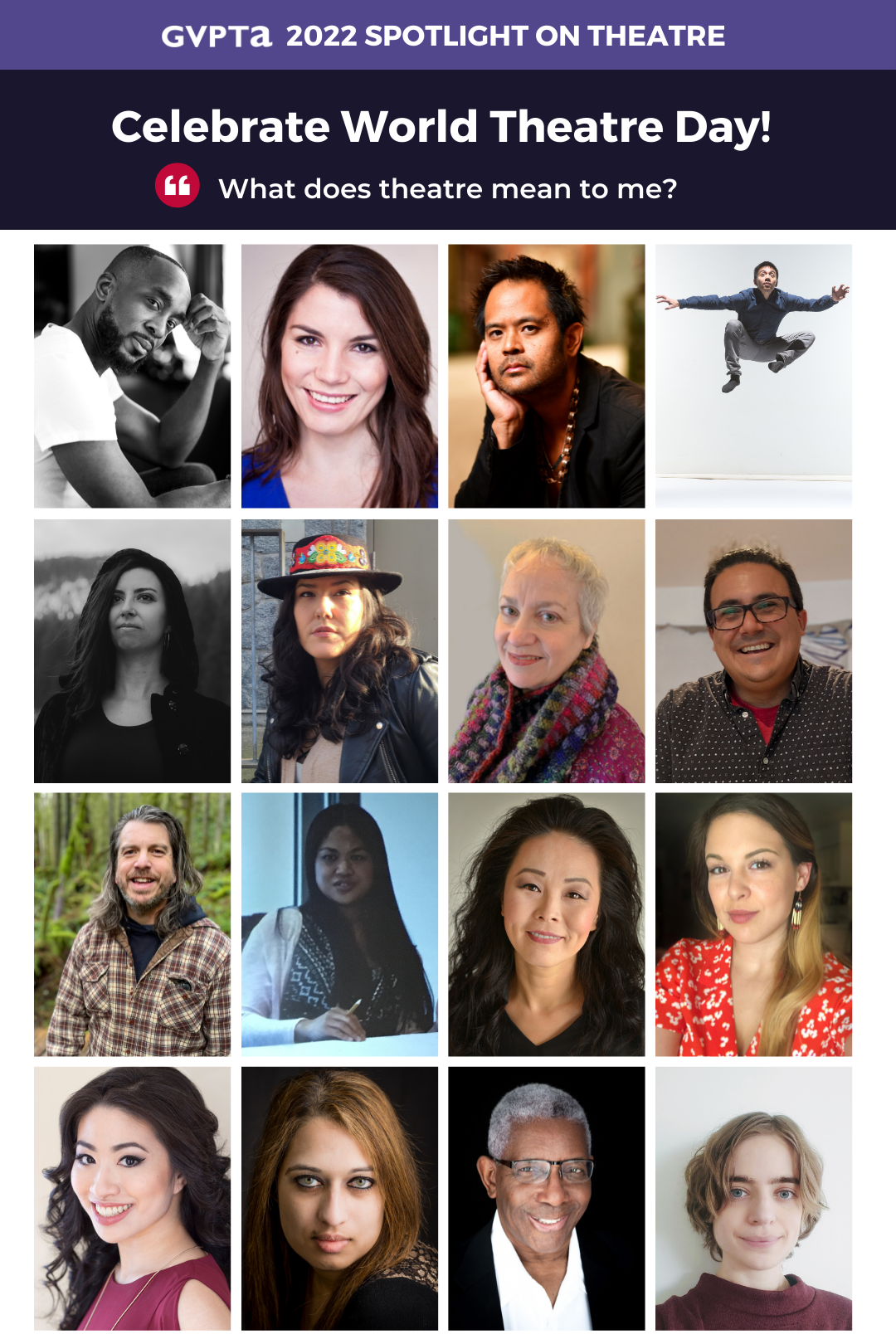 GVPTA commemorates World Theatre Day by sharing the Canadian message and campaign, raising the profile of the local theatre scene through public awareness activities, and aiding theatre companies to increase their community engagement around their related events.

For the second year in a row, as part of GVPTA's Spotlight on Theatre program, GVPTA invited a number of B.C. theatre practitioners to help inspire the public to look forward to experiencing live theatre by sharing their reflections on what theatre means to them. Starting in January 2022, individuals from the theatre community were featured on GVPTA's social media channels each week, culminating in a promotion of the collective group as part of our World Theatre Day celebration.

Learn more about GVPTA's 2022 Spotlight on Theatre, read bios of participants and their reflections on what theatre means to them here.
​​World Day of Theatre for Children & Young Audiences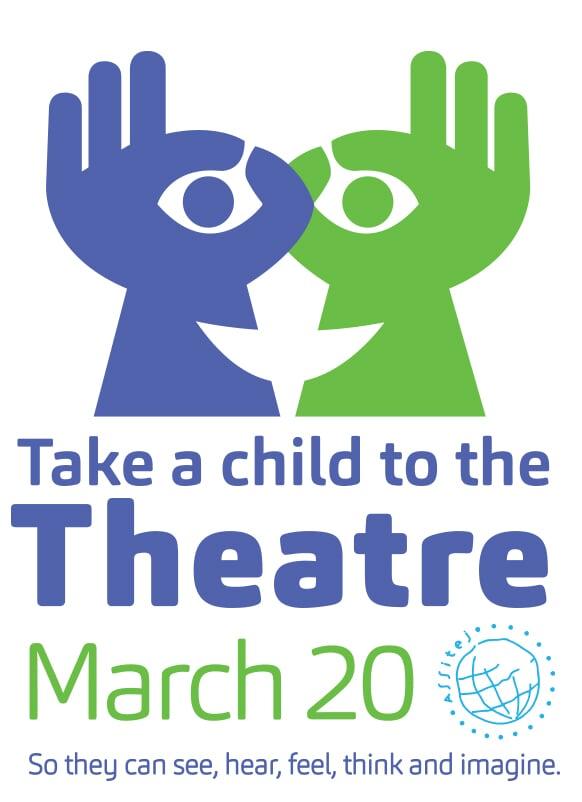 Celebrated each year on March 20, ASSITEJ's World Day of Theatre for Children is a campaign promoted and celebrated through the message 'Take a Child to the Theatre, Today'. focus enables national centres, individual members, companies, arts organizations, academics, teachers, artists, practitioners and others interested in theatre for young audiences to connect with the idea of world day and 'make the case' for children's entitlement to theatre and the arts.
For 2022, PACT in partnership with Assitej, TUEJ, ATFC, and Canada Children's Festival Association commissioned a message to promote and celebrate World Day of Theatre for Children and Young Audiences from a Canadian perspective. This year's message has been written by Lionel Lehouillier, author, director and actor, and the video can be viewed on the PACT website here.

Lionel Lehouillier is an author, director and actor, Lionel Lehouillier has a master degree in Theatre theory and Dramaturgy from the University of Ottawa. At the limit of theater and activism, he seeks to establish a dialogue between dramatic material and advocacy through less traditional theatrical procedures. A specialist in object theatre, Lionel signs the creations Les enfants valises, The Iliad for Dummies/L'Iliade pour les nuls and Ce pilon à patate est un demi-dieu grec.
The PDF/text version of the message by Lionel Lehouillier can be downloaded from PACT's website here. View the video message below.
The international message from Assitej can be viewed here.
Take a child to the theatre, today!